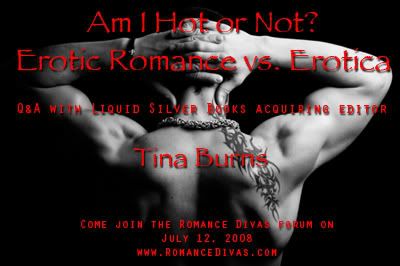 Am I hot or not? Erotic Romance VS. Erotica. Q&A with Liquid Silver Acquiring Editor, Tina Burns.All day July 12th at Romance Divas
Featuring:
Tina Burns
How do you know if you've crossed into the Erotica zone? Get a professional's opinion. It will take place at the
Romance Diva Forum
. All are welcome. To get access to the forum you will need to register. The workshop will be in the "Steamy" section of the forum which requires permission from the admin. Details are
HERE
.